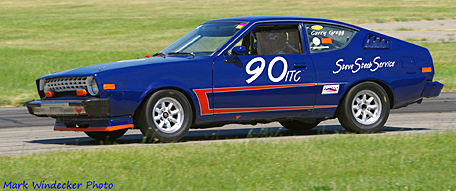 Steve Steeb Service Motorsports
This swoopy looking blue car that looks like it is skimming the ground is Steve's Lola 596. It races in a class called Sports 2000 (S2). It is a purpose built race car with an aluminum chassis, a fibre-glass body and a 2000 cc Ford engine (yes, from a Pinto!). Steve gets his engines for that car professionally built as a few builders have figured out every trick allowed. With 150m horsepower and weighing only 1350 lbs., the car is very fast (at Waterford Hills he laps faster than any Corvette, for example). Since the car is very intense to drive - Steve hasn't found the time to race it for a number of years, but does intend to again one day. Steve and the Lola have won a few Waterford Hills Championships and the car has also finished in the top three (gets a medal!) at a number of National Vintage Racing events.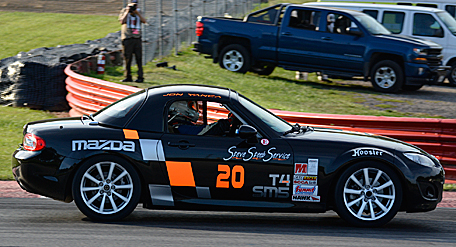 The Black Mazda Miata (car #20) is Jon's T4 class SCCA race car. It has a roll cage and full safety harness but most of the car is stock - he is allowed minimal modifications. Last year he competed in the highest level of Amateur Sports Car Racing in America and qualified for the National Championships. Last year they were held at the Mid Ohio Race Track just outside of Mansfield, Ohio. This year the Championship is being held at Indianapolis Motor Speedway and Jon hopes to qualify again.
desk@stevesteebservice.com - 734 930 2277 - 2075 S. Industrial Ann Arbor MI 48103